Innehållet nedan modereras inte i förväg och omfattas därmed inte av webbplatsens utgivningsbevis.
Supportsystem för mekaniska tätningar
Tillbaka till företagsprofilen.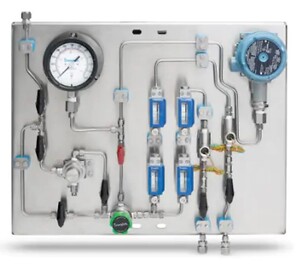 Seal support systems are designed to support a specific mechanical seal and set of process conditions. These systems supply either gas or liquid to the mechanical seal to regulate the environment in which the seal operates.
Making sure your seal support system is properly designed and installed is critical to keep your rotating equipment available for production. If seal system fluid is dirty or contains particulate, seal life can be negatively affected. Similarly, delivering the fluid at the wrong pressure or temperature can cause premature or even catastrophic seal failure.
Optimal System Design According to API 682
Swagelok offers mechanical seal support system as kits and assemblies that are easy to install and are backed by The Swagelok Limited Lifetime Warranty. Our seal support systems are available in various American Petroleum Institute (API) plan configurations and are assembled according to industry best practices as detailed in the fourth edition of the API 682: Pumps—Shaft Sealing Systems for Centrifugal and Rotary Pumps standard.
Swagelok mechanical seal support kits and assemblies feature standard designs that include the minimum arrangement of components as specified by API 682. We avoid pipe threads and limit the number of connections wherever possible when building seal support systems, minimizing potential for costly leaks.
Learn more here: Supportsystem för mekaniska tätningar | Swagelok
Fakta om Swagelok Sweden
Adress
Swagelok Sweden
Box 6067
192 06 Sollentuna
Region
Sverige
Stockholms län
Sollentuna kommun
Telefon: +46 8-626 28 00
VAT nummer: SE5561811877
Kontaktpersoner
Damara Andersson
Telefon:

+46 769451116