Innehållet nedan modereras inte i förväg och omfattas därmed inte av webbplatsens utgivningsbevis.
Regulatorer
Tillbaka till företagsprofilen.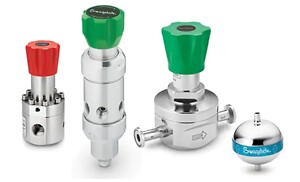 Reliable pressure control is essential to the safe operation of your fluid systems.
At Swagelok, we have the right combination of regulators to fit any situation, and our experts can help you design a configuration that will maintain pressure and minimize droop over a wide range of pressures and flows.
Back-pressure and pressure-reducing models
Spring-, dome-, and air-loaded models
Vaporizing models
Gas cylinder changeover model
Learn more here: Regulators | Swagelok
Fakta om Swagelok Sweden
Adress
Swagelok Sweden
Box 6067
192 06 Sollentuna
Region
Sverige
Stockholms län
Sollentuna kommun
Telefon: +46 8-626 28 00
VAT nummer: SE5561811877
Kontaktpersoner
Damara Andersson
Telefon:

+46 769451116