Innehållet nedan modereras inte i förväg och omfattas därmed inte av webbplatsens utgivningsbevis.
Ventiler
Tillbaka till företagsprofilen.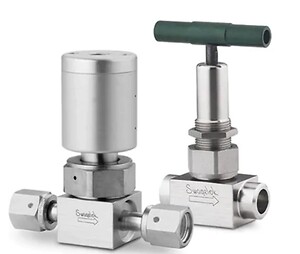 From the far reaches of space to the bottom of the ocean and everywhere in between, you can rely on us for leak-tight, long-lasting valves for your critical applications. Known for durability, Swagelok valves perform as promised even after years of use in demanding applications.
We rigorously test every valve and end connection we make for quality and performance so you can be confident they deliver unparalleled value and low total cost of ownership.
Swagelok offers instrumentation and process ball, check, diaphragm-sealed, metering, shutoff and regulating needle, process instrumentation, quarter-turn plugs and relief valves, and manifolds.
Available with:
A wide variety of end connections, including gaugeable Swagelok tube fittings
Broad working pressure and temperature ranges
Standard and special cleaning options for high-purity and ultrahigh-purity (UHP) applications
Learn more here: Valves | Swagelok
Fakta om Swagelok Sweden
Adress
Swagelok Sweden
Box 6067
192 06 Sollentuna
Region
Sverige
Stockholms län
Sollentuna kommun
Telefon: +46 8-626 28 00
VAT nummer: SE5561811877
Kontaktpersoner
Damara Andersson
Telefon:

+46 769451116